Spaghetti med panchetta og ærter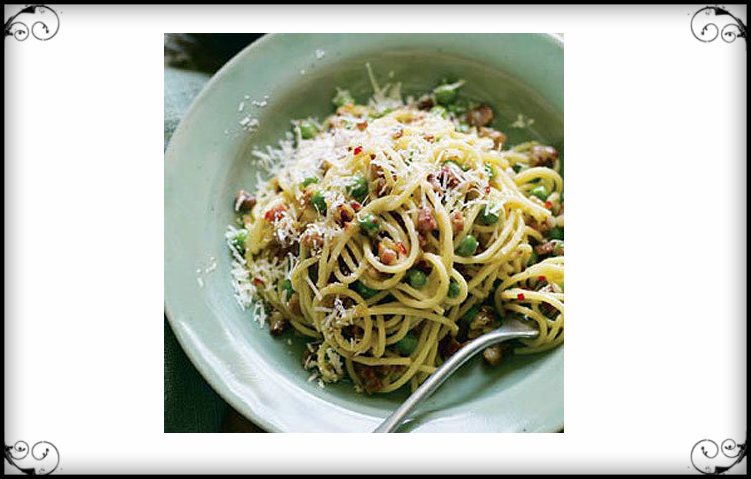 Jeg har, indrømmet, ikke taget det her billede selv, men da jeg i sin tid lavede den her ret, glemte jeg totalt at tage billeder af den. (Løgn. Jeg havde lige sat mig til rette og gad overhovedet ikke skulle på kamerajagt.) Men det her er virkelig en lækker opskrift, så den skulle i ikke snydes for. Den er også ret nem, det eneste, man skal være obs på, er, at panden ikke er for varm, når man tilsætter æg, ellers ender man med røræg i stedet for sauce!
Jeps, jeg er også for doven til at oversætte…
Ingredients
5 tbsp olive oil
2 medium onions, finely chopped
2 cloves garlic
1?2 fresh red chillies, depending on how hot you want it, de-veined, deseeded, finely chopped
2 x 140g packs Pancetta (Alternativt bacon i tern)
450g essential Spaghetti (Bedste resultat er som altid med frisk pasta)
6 medium egg yolks
100g freshly grated Parmigiano Reggiano (Parmesan til de ikke-italienskkyndige)
250g frozen peas
½ tsp freshly ground black pepper
Method
Fill a large saucepan with water, cover with a lid and place over a medium-high heat to bring to the boil.
While the water heats up, put the olive oil, onion, garlic and chilli into a large frying pan and place it over a low to medium heat for 5 minutes, then add the pancetta. Cook for a further 5 minutes.
Once the water comes to the boil, add the spaghetti and set atimer for 10 minutes. Stir the spaghetti every few minutes to prevent it from sticking together.
With 3 minutes left before the spaghetti is cooked, whisk together the egg yolks, Parmigiano Reggiano and a ladle of the spaghetti cooking water.
With 1 minute to go before the pasta is cooked, take the pancetta and onions off the heat and add the frozen peas.
Strain the pasta and return it to the saucepan. Add the contents of the frying pan and mix together. Add the black pepper and the egg and cheese mixture and allow to sit for 2 minutes. Stir thoroughly to incorporate everything then serve with some grated Parmigiano Reggiano sprinkled on top.
Velbekomme!